CERTs 2015 Conference | Mar. 10-11 | St. Cloud
Over 500 people attended the

CERT

s 2015 Conference!
The event was an exploration and celebration of successful energy efficiency and renewable energy projects. Now these amazing people have returned to their communities with the resources and connections they need to take action—how great is that?
You can also check out our Press Release.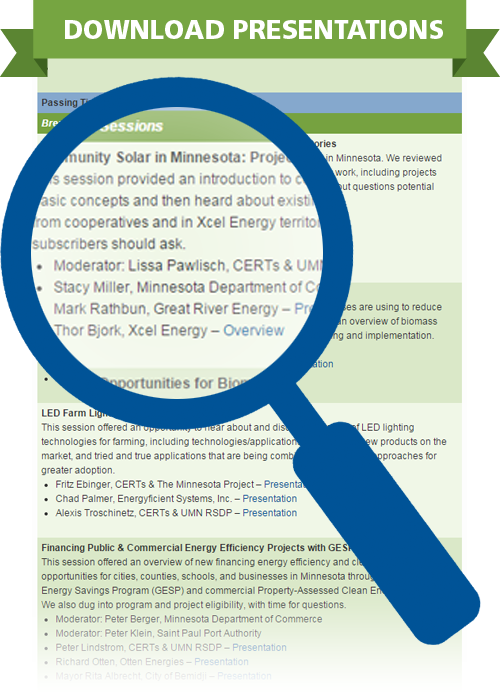 Photos from the

CERT

s 2015 Conference
Goals of

CERT

s 2015 Conference
1. Cross-pollinate: Connect people and projects across regions and sectors
2. Percolate: Help surface new ideas to build Minnesota's clean energy future
3. Engage networks: Governments, schools, organizations, utilities & more
4. Tip the scale: Attract new people and drive attendees to take action
CERT

s 2015 Conference Planning Committee
Lisa Barajas, Metropolitan Council
Rick Condon, MN Interfaith Power and Light, Wells Fargo
Heather Corcoran, League of Minnesota Cities
Timothy DenHerder Thomas, Cooperative Energy Futures
Jon Fabre, Otter Tail Power Company
Roger Garton, Rural Renewable Energy Alliance
Linda Kingery, UofM NW Regional Sustainable Development Partnership
Diana Kuklinski, MnTAP
Nan Larson, Agricultural Utilization and Research Institute
Andrea Lauer, City of Royalton
Annie Levenson-Falk, Legislative Energy Commission
Chris Meyer, Board, Minnesota Renewable Energy Society
Ron Omann,

USDA

Rural Energy for America Program
John Paulson, City of Hutchinson
Yvonne Pfeifer, Xcel Energy
Scott Randall, Apex Solar
Julie Rath, Redwood Area Development Corporation
Jodi Slick, Ecolibrium3
Quinn Swanson, Happy Dancing Turtle, Hunt Utilities Group
Paul Twite, Delano Municipal Utility
Terry Webster, MN Dept. of Commerce, Division of Energy Resources

Thank you to our
CERT

s 2015 Conference Sponsors:
Presenting Sponsor
Clean Energy Resource Sponsor
Platinum Sponsors
Gold Sponsors
Silver Sponsors
Media Partner

Thank you to our
CERT

s 2015 Conference Exhibitors:


360 Energy Group
Agricultural Utilization Research Institute
Alliance for Sustainability
American Lung Association in Minnesota
Apex Efficiency Solutions, Inc.
BIOFerm Energy Systems
Center for Energy and Environment
CenterPoint Energy
Central Lakes College Ag & Energy Center
Clean Energy Resource Teams
ConEdison Solutions
Cool Planet
Crescent Electric Supply
Dragonfly Solar
EnerChange
Franklin Energy
Gone2Green Wind & Solar Energy and Bergey Wind Power
Green Energy Products
Hubbell Lighting
Innovative Power Systems
JKG Fuel Solutions
Juhl Energy. Inc.
Lighten Up, LLC
Michaels Energy
Midwest Energy News
Midwest Renewable Energy Association
Minnesota Army National Guard
Minnesota Department of Commerce, Division of Energy Resources
Minnesota Energy Resources
Minnesota GreenStep Cities
Minnesota Renewable Energy Society
Minnesota Technical Assistance Program
MN Community Solar
North Central Sustainable Agriculture Research & Education
Opower
PALS, INC and Energyficient Lighting Systems
Prairie Woods ELC & Youth Energy Summit
Redwood Area Development Corporation
RetroGreen Energy
Royalton High School YES! Team
Rural Renewable Energy Alliance
Silicon Energy
Sioux Empire Lighting, Inc.
SolarWall – Conserval Systems
Southwest Regional Development Commission and RMEB PACE
Stearns Bank
SunEdison
SunShare
The Weidt Group
UE Systems
University of Minnesota's Regional Sustainable Development Partnerships & Extension
USDA Rural Development
Werner Electric Supply
West Central Research and Outreach Center
Will Steger Foundation
Windtech, Inc. & EES Holdings
Windustry
WoodMaster & Northwest Manufacturing, Inc.
Xcel Energy
ZEF Energy
Zenergy
Zinniel Electric Co

#CERTs2015 on Twitter