Partners and Staff
The Clean Energy Resource Teams project is a public-private partnership staffed by: the University of Minnesota Extension and Regional Sustainable Development Partnerships, Great Plains Institute, Southwest Regional Development Commission, and the Minnesota Department of Commerce. Read on to learn more about each partner and their CERTs staff. Click here to see the CERTs organizational structure.

---
University of Minnesota Regional Sustainable Development Partnerships & Extension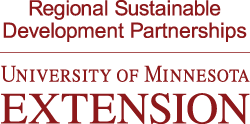 The University of Minnesota's Regional Sustainable Development Partnerships are citizen-driven university partnerships fostering sustainable development. The Regional Partnerships are based in five regions throughout greater Minnesota and work to foster active citizenship, achieve sustainable development (focusing on natural resources, renewable energy, sustainable agriculture, regional food systems, and sustainable tourism), and create a vital relationship between the citizens of the State and their land grant university. Partner Lead: Kathryn Draeger, Statewide Director

The mission of University of Minnesota Extension is making a difference by connecting community needs and University resources to address critical issues in Minnesota. Extension is a 100-year-old partnership between the University and federal, state and county governments—providing scientific knowledge and expertise to the public. The University of Minnesota is one of the nation's more than 100 land grant colleges and universities with a mission to engage in teaching, research and extension. Through Extension, land grant institutions "extend" their resources to address critical public issues through non-formal, non-credit education. Extension faculty and staff live and work across the state, in regional and county offices, University campuses, and research and outreach centers.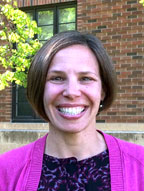 Lissa Pawlisch is the Clean Energy Resource Teams (

CERT

s) Director for the University of Minnesota Extension's Regional Sustainable Development Partnerships. Over the past fifteen years she has guided

CERT

s—a unique program partnership designed to connect individuals and communities to the resources they need to identify and implement community scale clean energy projects. After an environmental consulting stint, she got her Masters in Science, Technology and Environmental Policy. Lissa is passionate about working directly with communities to help them understand their energy options, the values that drive their projects, how technologies and practices can be deployed, and how to harness community capacity to affect change. Her current focus areas include community shared solar and local government clean energy adoption.
Email More contact info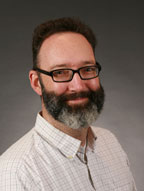 Joel Haskard is the Clean Energy Resource Teams (

CERT

s) Co-Director for the University of Minnesota's Regional Sustainable Development Partnerships and Extension. Joel has over fifteen years experience coordinating and managing community and economic development activities in the U.S. and abroad. A jack of all trades, Joel works across

CERT

s programming, and his current focus areas include MN Energy Stories, electric vehicles (EVs), and partnering with utilities on energy efficiency outreach.
Email More contact info
Dan Thiede is the

CERT

s Strategic Communications and Engagement Director with the University of Minnesota's Regional Sustainable Development Partnerships and Extension. In this role, Dan is responsible for everything from goal-setting and big-picture strategy to the daily management of websites, social media, outreach and marketing, public relations and publicity, design and publications and communications interns. Dan has undergraduate degrees from the University of St. Thomas in geography and English writing, as well as a minor in environmental studies. Dan also recently earned a Masters degree in Strategic Communications from the University of Minnesota.
Email More contact info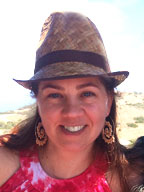 Maggie Kozak is the Clean Energy Resource Teams (

CERT

s) Event Programming & Seed Grants Manager for the University of Minnesota's Regional Sustainable Development Partnerships and Extension. She has worked domestically and internationally on community development issues. At

CERT

s, Maggie plans, organizes, promotes, and executes events big and small, statewide. She enjoys managing

CERT

s seed grants and working with regional

CERT

Steering Committees. In addition, Maggie reviews publications and tends to the contracts and administrivia that make the world go 'round. Maggie enjoys biking to work, running, and yoga.
Email More contact info
Alexis Troschinetz is the Behavioral Science and Evaluation Manager with the Clean Energy Resource Teams (

CERT

s) at the University of Minnesota's Regional Sustainable Development Partnerships and Extension. She infuses behavior change science into

CERT

s programs and campaigns; conducts campaign research, development and implementation; and evaluates CERTs' programs by tracking quantitative and qualitative metrics. She's presented at the American Evaluation Association, Behavior, Energy and Climate Change, Association for Advancement of Sustainability in Higher Education, and Energy Design conferences and she's authored three peer-reviewed journal articles. Alexis loves volunteering and and currently serves on her neighborhood's Board of Directors. Alexis holds her professional engineering license and has a B.S. and an M.S. in Environmental Engineering (EnvEng) from Michigan Technological University, Sustainable Futures Institute. Alexis practiced EnvEng for over 7 years at two consulting firms prior to

CERT

s, working on sustainable operations, remediation, and stormwater.
Email More contact info
Peter Lindstrom is the Manager of Public Sector & Community Engagement with the Clean Energy Resource Teams (

CERT

s) at the University of Minnesota's Regional Sustainable Development Partnerships and Extension. In this role Peter spearheads outreach and education to local units of government (i.e., cities, counties, townships, school districts) about approaches for financing energy efficiency and renewable energy improvements, particularly through the Guaranteed Energy Saving Program (

GESP

). Peter is also the Mayor of the City of Falcon Heights, MN, and serves on the Regional Council of Mayors. Most recently, Peter was Assistant Director of the Center for Science, Technology & Public Policy at the University of Minnesota Humphrey School, Executive Director of SciMathMN, and the Vice President of Public Affairs at the Minnesota High Tech Association.
Email More contact info
Fritz Ebinger is the Clean Energy Resource Teams (

CERT

s) Rural Energy Development Program Manager for the University of Minnesota's Regional Sustainable Development Partnerships and Extension. In this role, he works on energy efficiency and renewable energy initiatives with agricultural producers to reduce farm production costs and advance utility conservation planning. Fritz graduated cum laude from St. John's University in 2001 and served in the Peace Corps as an Agroforestry Volunteer in Panama from 2001-2003. He attended Drake Law School as a Public Service Scholar, graduating and passing the Minnesota Bar in 2008. While at Drake, he focused on agricultural, environmental, and natural resources law and wrote for the Drake Agricultural Law Journal. Following graduation, Fritz clerked for Judges Joe Chase and Robert Birnbaum in Minnesota's Third Judicial District from 2008-2010 and was a solo practitioner from 2011-2013. Most recently, he comes to

CERT

s from The Minnesota Project where he managed their farm energy programs.
Email More contact info
Chris Meyer is the Southeast

CERT

Coordinator for the University of Minnesota's Regional Sustainable Development Partnerships. She recently earned an MS in Environmental Policy Management with an emphasis on Energy and Sustainability from Denver University. Chris also has a

BFA

in printmaking from the University of Minnesota and a BS in Economics from Drake University. A personal journey which started with a desire to install solar panels lead to a

DIY

project for a net-zero-energy home remodel, becoming a residential PV site assessor, community solar organizing, and coordinating the Minnesota Renewable Energy Society's statewide renewable energy tour. Chris is an Extension Master Gardener and helps organize and work in a community garden that donates produce to local food shelves. She is also working with the City of Winona to implement a residential rain garden program.
Email More contact info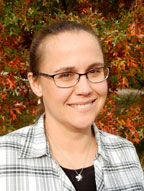 Melissa Birch is the Central

CERT

Coordinator. Melissa grew up in north-central Minnesota and has a B.A. in French from Gustavus Adolphus College, an M.A. in International Relations and Environmental Policy from Boston University, and a Ph.D. in International Relations from the Fletcher School at Tufts University, where she focused on environmental policy and economic development. She has worked and volunteered in research, non-profit organizations, natural resource management, and education in locations ranging from Mexico to Massachusetts to Minnesota. She is passionate about finding ways that clean energy can help meet communities' needs.
Email More contact info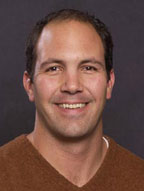 Jacob Selseth is the West Central

CERT

Coordinator. Selseth grew up around hands-on folks that build and install the things that make our buildings work. This led him down a path where he could leverage that background and build on it while earning his B.S. in Energy Management from Moorhead State University. He began as a intern at Moorhead Public Service in a time when they were developing the "Capture the Wind" program that provides wind energy to its customers. From then on he was hooked on helping people make wise decisions on how they use energy and choose the best technologies to achieve their goals. He became a Certified Energy Manger with the Association of Energy Engineers to better help lower energy bills, reduce carbon footprint, and increase production while maximizing efficiency. Jacob has enjoyed working from multiple sides of the meter including generation, distribution, and directly for consumers. This gives him a unique understanding of each perspective and aides greatly in navigating the industry to find the best energy solutions. Jacob likes to think we can always be improving and doing things better. He looks at all types of energy and technology to best achieve peoples' goals. When not thinking of ways to better use energy, he keeps his feet on the ground with his three boys working in the barn, gardening, and finding other ways to play in the dirt. When he wants to pick up the pace a bit, he is an avid alpine skier and triathlete.
Email More contact info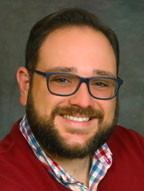 Joel Anastasio is the Northwest

CERT

Coordinator based at the Headwaters Regional Development Commission (

HRDC

) in Bemidji. In his role at

HRDC

, Joel serves as the Environmental and Development Specialist where he works on advancement and planning in the areas of clean energy, climate change, natural resource and environmental management, community development, and transportation. Currently, Joel serves on the City of Bemidji Sustainability Committee and partners with the Citizens Climate Lobby (

CCL

). As a native Floridian, he spent 20 years of his life by the beach, which influenced his love for the ocean and the environment. After his first two years at Edison State College, Joel moved to North Carolina and earned his Bachelor's Degree in Economics. He is in the final stages of completing his Masters in Energy Regulation and Law from Vermont Law School and was chosen as the recipient of the Vermont Law School Academic Excellence Award. Outside of his professional and collegiate career, Joel enjoys spending time with his wife and two golden retrievers, hiking, boating on the lake, cooking, and traveling.
Email More contact info
Colby Abazs is the Northeast

CERT

Coordinator. Colby grew up in an off-grid home powered by solar and wind energy. As a kid, the batteries had to be above 50 volts to be allowed to watch movies. This sparked his interest in energy production and usage at a young age, a passion that he has continued to pursue throughout life. While in college, Colby took on leadership roles in student governance on both the college and statewide levels, allowing him to expand his community engagement skills. He recently completed a ten month trip exploring cultures and communities around the world and is now settling into the family homestead in Finland, MN. Colby is excited about all the momentum around clean energy projects in the Northeast

CERT

region and across the state.
Email More contact info
Great Plains Institute
The Great Plains Institute is a nonpartisan, nonprofit organization that takes a pragmatic approach to our energy and climate change challenges—working with diverse interests to transform the way we produce, distribute, and consume energy to be both environmentally and economically sustainable. Through research and analysis, consensus policy development, and technology acceleration,

GPI

is leading the transition to clean, efficient and secure energy. Metro

CERT

is a program of The Great Plains Institute. Partner Lead: Rolf Nordstrom, President & Chief Executive Officer
Diana McKeown is the Metro

CERT

Director at the Great Plains Institute. Diana has led the Metro region of

CERT

s since October 2007, during which time she has coordinated and participated in a number of clean energy initiatives, including: Apple Valley's Better Energy Program; Neighborhood Energy Service (a partnership with Neighborhood Energy Connection and others to deliver residential energy workshops and home visits in all 17 neighborhoods in Saint Paul); an energy makeover of the Lao Family Community Center in partnership with Xcel Energy. Diana has also collaborated on the launch of a number of projects/programs including GreenStep Cities, Minnesota Schools Cutting Carbon, and a variety of energy savings measures through

CERT

ified Campaigns. Diana has coordinated successful events, forums and tours, including the annual Brake for Breakfast gathering and the SolarWorks workshop series. Prior to joining the

CERT

s team, Diana worked for over 14 years at Clean Water Action where she gained experience with media work, grassroots organizing, campaign planning, lobbying, and fundraising. Diana has extensive experience building strategic campaigns and coalitions. Diana has a state certificate in residential energy auditing from Dunwoody and holds a B.S. in Environmental Studies from the University of Minnesota. Diana lives in Minneapolis with her husband and two daughters.
Email More contact info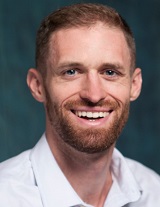 Trevor Drake is a Project Manager at the Great Plains Institute. His

CERT

s work is focused on advancing solar PV deployment throughout Minnesota. In this role, he develops projects and programming to help local governments and their communities understand and implement solar energy projects. Currently, Trevor is supporting a cohort of 8 Greater Minnesota cities and counties seeking to reduce barriers to solar energy deployment within their jurisdictions. Recently, he worked with a team of local governments in Minnesota to launch a joint purchase of community solar garden subscriptions for public buildings – totaling 35 Megawatts across 25 government entities. Prior to joining

CERT

s, Trevor served for two years in the AmeriCorps public service program where he worked with Habitat for Humanity to build a

LEED

-Certified affordable home and assisted a local municipality to implement energy efficiency and renewable energy projects in its public buildings. Trevor is a graduate of Saint John's University with a BA degree in Environmental Studies.
Email More contact info
Southwest Regional Development Commission
The Southwest Regional Development Commission provides professional expertise and leadership to enhance regional opportunities. The Southwest Regional Development Commission (

SRDC

) is a nine county planning and development agency providing services to local units of government, non-profit agencies, and various individuals and groups both public and private sectors throughout the region. Membership is comprised of 36 representatives of townships, cities, counties, school boards and public interest groups. The

SRDC

provides a forum for the discussion and resolution of issues common to the area. The following are program areas in which the Commission is presently involved: Development Services, Community Driven Planning, Management and Policy Administration, Strategic Planning, Agency and Legislative Advocacy, Capital Resource Development, Transportation, Area Agency on Aging , Infrastructure and Solid Waste. The

SRDC

coordinates the SW

CERT

. Partner Lead: Jay Trusty, Executive Director
Annette Fiedler is Physical Development Director of the Southwest Regional Development Commission. She grew up in Nebraska, attending high school in Lincoln. She has an Undergraduate degree in Geography with a special emphasis in urban studies, and a Master's Degree in Community and Regional Planning from the University of Nebraska at Lincoln. Following her college education, she began to work for the Southwest Regional Development Commission as a planner in September 1986. The Physical Development Planning position has included work in assisting local units of government in Transportation, Land Use, Solid Waste Management Planning, Environmental, and Energy planning. Currently, her work focuses on Transportation and Renewable Energy planning issues. The Transportation planning objective is to coordinate with the Minnesota Department of Transportation in the planning and development of a comprehensive transportation system in SW Minnesota. She serves as staff to the

SRDC

Transportation Committee, technical staff to Area Transportation Partnerships 7 and 8, and provides technical assistance to local units of government. She has served as the

MRDO

Transportation Planners co-chair, and has been on various state plan advisory committees. Energy Planning currently involves two major work areas: staff to the 18 county Rural Minnesota Energy Board and the Southwest Clean Energy Resource Team (

CERT

s) Coordinator. The 18 County Joint Powers Energy Board formed to provide policy guidance on issues surrounding energy development in rural Minnesota. The SW

CERT

s has developed a strategic vision and renewable energy and conservation plan, reflecting a mix of energy sources, such as biomass, solar, hydrogen, and wind. The plan laid groundwork for funding and implementing renewable energy projects that meet regional needs.
Email More contact info
Minnesota Department of Commerce, Division of Energy Resources
The Division of Energy Resources works to promote and advance energy efficiency and renewable energy to Minnesota consumers, businesses and policymakers through educational outreach and technical assistance, targeted financial incentives, and demonstrations of market-ready new technologies. The office also is responsible for the state utility-funded Conservation Improvement Program and administers the low-income Weatherization program. Much of their work is funded by the U.S. Department of Energy State Energy Program. Partner Lead: Michelle Gransee, State Energy Office Clean Energy & Programs Manager
Michelle Gransee is the State Energy Office Clean Energy & Programs Manager at the Minnesota Department of Commerce, Division of Energy Resources. Michelle supervises the State Energy Office, which is made up of energy efficiency, renewable energy, and training experts.
Email More contact info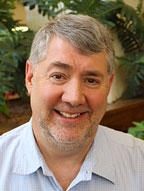 Terry Webster is the Senior Events and Publications Coordinator for the Minnesota Department of Commerce, Division of Energy Resources, where he has been since 2005. He is the author of many energy-related articles, consumer guides, and fact sheets distributed by the energy division. He also delivers public presentations throughout the state on a wide range of energy conservation and efficiency topics. The past several years he has been the project manager for the Energy exhibit in the Eco Experience at the MN State Fair, which provides energy conservation, efficiency and renewable energy messages to Minnesotans. He is also presently the project manager for the Clean Energy Community Award program, which recognizes communities who are working to implement Minnesota's clean energy goals and provides technical assistance to communities that are in the planning stages of energy projects. Prior to working for the State of Minnesota, Terry was a writing and design consultant for several years and began his working life as a carpenter and residential building contractor. He resides with his wife in a 1930s bungalow in the Longfellow neighborhood of south Minneapolis.
Email More contact info