Holiday Light Recycling 2013-2014
This program is now run by counties and vocational centers.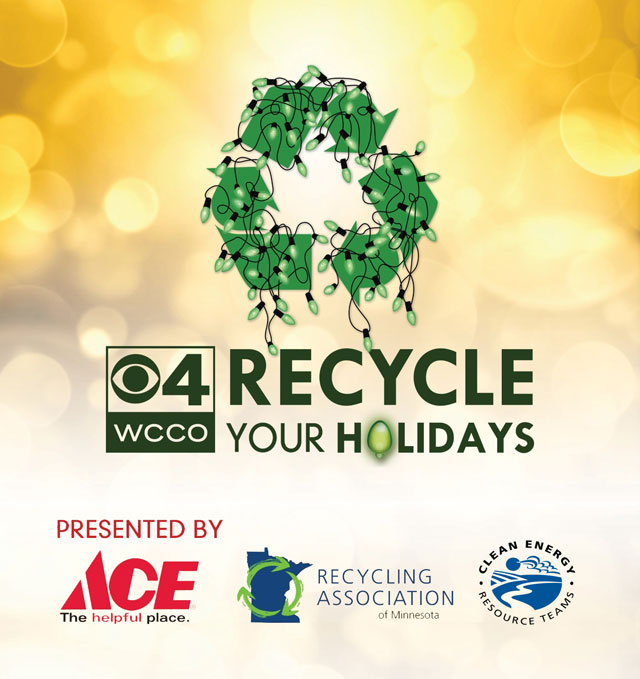 ---
Drop off your old, broken holiday lights at any participating location during the holiday season as part of Recycle Your Holidays™


Recycle Your Holidays™ takes place across Minnesota from November 15 through the end of January each year. More than 650,000 pounds of holiday lights have been recycled since the program's start. The strands are dismantled by over 200 individuals with disabilities at vocational centers throughout the state and properly recycled locally.
Learn more about program >>
See a press release >>

This is a project of the Recycling Association of Minnesota: The Recycling Association of Minnesota (RAM) is committed to promoting resource conservation through waste prevention, reuse, recycling, composting and purchasing practices using the most cost effective and environmentally sound methods available in Minnesota. Learn more at www.RecycleMinnesota.org.

---
Save energy and money: Switch to
LED

s


For many Minnesotans, the house, porch, shrubs and trees are donned with holiday lights. Depending on one's holiday lighting enthusiasm, a home can save between $10 to $250 each holiday season by switching to LED holiday lighting. This is because, according to the Department of Energy, LED holiday lights save up to 90% of the energy used by traditional incandescent holiday lights. LEDs are also safer, sturdier, longer lasting, and easier to install.
For every old holiday lighting string recycled and replaced with more efficient LED holiday lighting, 19 kilowatt-hours of electricity are saved over the course of the holiday season. This is the same amount of energy as a common CFL household light bulb would use if left on for 24 hours a day for 2 months straight!
RAM has recycled nearly 650,000 pounds of holiday lighting since the inception of this program. If even half of these light strands were upgraded to more efficient LED holiday lighting, Minnesotans are saving over 5.4 million kilowatt-hours and $430,000 year after year. That's enough energy to power the electricity of 477 homes for an entire year!
Learn more about LED holiday lights from ENERGY STAR >>

---
Check out other lighting resources


---
Get MN Energy Stories from
CERT

s:



Bringing you news about clean energy projects and opportunities happening across the state. Read stories now >>