Hundreds of Minnesotans to Converge in St. Cloud March 10-11 to Save Energy, Save Money, and Build our Clean Energy Future
Monday, February 23, 2015
Conference Offers Advice and Networking for Cities, Businesses, Schools, Farmers and Utilities on Solar, Electric Vehicles, Biomass, and Energy Efficiency

FOR IMMEDIATE RELEASE
Media Contact:
Dan Thiede, CERTs Communications Manager
U of M Regional Sustainable Development Partnerships
thie0235@umn.edu or 651-334-0000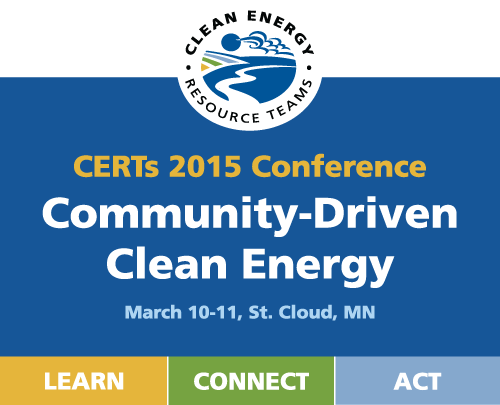 Saint Cloud, MN, February 23, 2015 – There are hundreds of people across Minnesota—in all walks of life—working to save energy, save money, and build our clean energy future. Many of them will be sharing what they have learned at the CERTs 2015 Conference: Community-Driven Clean Energy happening at the Saint Cloud River's Edge Convention Center on March 10-11, 2015.
"The Clean Energy Resource Teams, or CERTs, talk to people every day who want to become more energy efficient and harness clean energy, all while strengthening their local economies and protecting the environment," says Dan Thiede, CERTs Communications Manager. "With Minnesota and the rest of the country on the cusp of a boom in solar energy and community solar gardens, an expansion of electric vehicles and charging infrastructure, and a rise in innovative approaches to funding and financing, the CERTs 2015 Conference is the perfect place for people to learn from experts and community members alike on what it takes to get projects done. They'll also connect with the folks that can help them move their projects forward. Plus, it's a whole lot of fun!"
CERTs 2015 will begin on Tuesday, March 10 with a full day of informative and timely sessions, generous networking opportunities, and exhibits, ending with an evening reception. The event will continue on Wednesday, March 11 with a half day of in-depth clean energy workshops, more networking, and exhibits. Below are just a few highlights from the two-day event.
Lightning Talks: The March 10 Morning Kick-Off and Evening Receptions will include a series of fast-paced Lightning Talks, brief presentations on a range of clean energy projects in Minnesota. From a small businesses saving energy to a school that installed a solar-powered greenhouse to a company that educates individuals and businesses about the benefits of switching to electric vehicles, attendees will have the opportunity to hear from nine speakers with dynamic, visual presentations.
Solar Energy: The Solar Incentives & Tools session will provide an update on the Made-in-Minnesota (MiM) solar rebate, an overview of utility solar incentives, an introduction to the Minnesota Solar Suitability App, and tools for decreasing solar soft costs. Participants at the Community Solar in Minnesota: Projects Across Utility Territories session will receive an introduction to community solar gardens in Minnesota. Presenters will review basic concepts and then discuss existing projects and how they work, including projects with electric cooperatives and Xcel Energy, and share tips about questions potential subscribers should ask. The Digging into Community Solar Gardens presentation will provide an overview of Solar Garden Operators and Developers now working in Minnesota at different scales with varying business models, target audiences and missions. Participants will be able to learn what will work best for them. Solar energy also offers excellent opportunities for heating in Minnesota, particularly in these times of high propane prices. The Strategic Opportunities for Solar Thermal session will provide an overview of various technologies and applications; costs, benefits, and limitations; and efforts to promote solar thermal strategically across MN.
Electric Vehicles (EVs): Electric vehicles are hitting the streets of Minnesota. During the EVs & Charging Infrastructure session you'll learn about current vehicle technology, existing efforts to expand the state's network of EV charging stations, and utility efforts on EVs.
Farm Energy Efficiency: The Utility Programs for On-Farm Efficiency session will feature utilities serving farms across Minnesota giving an overview of their programs, from energy audits and rebates for efficient equipment to tailored technical assistance and beyond. As session on LED Lighting Technologies for Farming will cover new products on the market and tried and true applications—such as barn lighting—that are being combined with approaches for greater adoption. Participants at the USDA Rural Energy for America Program Funding session will learn how this program is a great opportunity for Minnesota farmers and rural businesses to save energy with efficiency work and add renewable energy systems. Grants can cover up to 25 percent of eligible project costs, and loans can cover up to 75 percent of eligible project costs. This workshop will review changes to the program as well as offer assistance with preparing applications.
Funding for Clean Energy Projects: Community members can be a vital source of financial support for clean energy projects. The Garnering Community Financial Support for Your Project program will provide an overview of crowd funding approaches, with case studies from Bonnie's Grocery in the West Central region, El Norteño Restaurant in the Metro, and Rural Renewable Energy Alliance in Central Minnesota. Other sessions on project funding will introduce local governments and businesses to Financing Public & Commercial Energy Efficiency Projects with GESP & PACE, while paying for solar installations will be specifically covered in the Solar Financing Models session.
Energy Savings for Local Governments: Minnesota GreenStep Cities is a voluntary challenge, assistance and recognition program to help cities achieve their sustainability and quality-of-life goals. This free continuous improvement program is based on 28 proven best practices. Presenters from GreenStep Cities at the Accomplishing GreenStep Cities Energy Best Practices workshop will focus on ways that cities can save energy through conservation and efficiency measures, and also produce renewable energy. The workshop will include an in-depth look at these best practices and insight from representatives of member cities who have already done the work in their own operations and communities. A session on LED Street Lighting will allow attendees to learn from local governments and utilities alike who have installed energy-saving LED street lighting. The session will focus on technologies, costs, financing, lessons learned, and more.
Biomass: Minnesotans are curious about biomass projects that communities and businesses are using to reduce costs, expand their clean energy options, and drive local economic development. The Strategic Opportunities for Biomass session will provide an overview of biomass technologies in use in Minnesota, project models, and tools for funding and implementation.
Community-Driven Clean Energy Exhibit Hall: The CERTs 2015 Conference will feature more than 60 exhibitors across the range of clean energy technologies and industries. They can help Minnesotans move forward with projects in their communities, from energy efficiency and biomass to solar and wind energy systems.
Getting There: Advance tickets range from $55-65 per day ($65-85 at the door) with discounted pricing for students with valid I.D. Pricing to attend the reception only is $15. Learn more, see the full agenda and purchase tickets at http://2015.mncerts.org/agenda. The Saint Cloud River's Edge Convention Center is located at 10 4th Avenue South.
High-resolution graphics and additional resources available at http://2015.mncerts.org/share.
The CERTs 2015 Conference: Community-Driven Clean Energy is the sixth biennial CERTs Conference. The Clean Energy Resource Teams connect Minnesotans with resources to identify and implement energy efficiency and renewable energy projects. CERTs is made up of people across Minnesota who share a bold vision for Minnesota's energy future: to foster strong communities, create local jobs, and develop clean and reliable energy from clean sources. Learn more at http://mncerts.org.
See more