USDA Announces Grant on Earth Day to Help Farms & Businesses Protect the Environment with Clean Energy
Wednesday, April 22, 2015
Funding supports Renewable Energy for Greater MN program, which will provide free renewable energy assessments and custom project assistance
Download press release as PDF >>
FOR IMMEDIATE RELEASE
Media Contacts:
Joel Haskard, CERTs Co-Director
UMN Extension RSDP
612-624-2293 or haska004@umn.edu
Ron Omann, State Energy Coordinator
USDA Rural Development
651-602-7796 or ron.omann@mn.usda.gov
Saint Paul, MN, Wednesday, April 22, 2015 – As the world celebrates Earth Day on April 22nd, the Minnesota-based Clean Energy Resource Teams—or CERTs—partnership is kicking off a program to work closely with farmers and rural small businesses to advance renewable energy projects.
For more than ten years, CERTs has been connecting Minnesotans with the resources they need to plan and implement energy efficiency and renewable energy systems. Through the newly funded program, Renewable Energy for Greater MN, CERTs will help Minnesota farmers and rural small businesses by providing free on-site renewable energy assessments and offering custom project assistance.
"Farmers and rural small businesses are essential to the fabric of Minnesota—its economy, environment and communities. We're seeing increased demand for information about renewable energy technologies," shared Joel Haskard, CERTs Co-Director, "so we're excited to offer this free renewable energy assessment and project assistance to Minnesotans. In fact, we already have more than thirty farms and small businesses interested in moving forward with solar, wind, and biomass projects."
Renewable Energy for Greater MN is made possible by USDA's Energy Audits – Renewable Energy Development Assistance grant program (EA-REDA). This announcement is part of a nationwide Earth Day celebration to highlight the role of renewable energy systems in maintaining environmental quality.
"This program helps increase American energy independence by increasing the private sector supply of renewable energy and decreasing the demand for energy through energy efficiency improvements," said USDA Rural Development State Director Colleen Landkamer. "Over time, investments like these can also help lower annual energy costs for small businesses and agricultural producers—freeing capital for the bottom line."
CERTs is one of 25 organizations selected for energy audit and renewable energy development assistance grants through USDA's popular Rural Energy for America Program announced by U.S. Secretary of Agriculture Tom Vilsack earlier today.
"This year's Earth Day celebrations remind us of the important role each person can play to help protect our environment," Vilsack said. "Communities across the nation are hosting events to increase awareness of environmental issues. I am proud to announce that USDA is providing nearly $2 million in grants nationwide to promote renewable energy."
Since 2009, USDA has invested more than $36.4 million in renewable energy and energy efficiency projects in rural communities throughout Minnesota. For more information on EA-REDA or REAP, please visit www.rd.usda.gov/mn or call USDA Rural Development Energy Coordinator Ron Omann at 651-602-7796.
About CERTs: The Clean Energy Resource Teams—or CERTs—are a statewide partnership with a shared mission to connect individuals and their communities to the resources they need to identify and implement community-based clean energy projects. We empower communities and their members to adopt energy conservation, energy efficiency, and renewable energy technologies and practices for their homes, businesses, and local institutions. CERTs partners include the University of Minnesota Extension Regional Sustainable Development Partnerships, Great Plains Institute, Southwest Regional Development Commission, and the Minnesota Department of Commerce, Division of Energy Resources.
About Extension: University of Minnesota Extension is creating a stronger Minnesota through education and research. Extension provides practical education and research you can trust, to help people, businesses and communities solve problems, develop skills and build a better future. Over 65% of Extension's 800 researchers, educators and staff live and work in greater Minnesota, located at Regional Extension offices, Extension county offices, University research and outreach centers, and University campuses.
About USDA: USDA Rural Development achieves its mission by helping rural individuals, communities and businesses obtain the financial and technical assistance needed to address their diverse and unique needs. EA-REDA grants support programs to help agricultural producers and rural small businesses evaluate energy efficiency systems and determine the feasibility of incorporating renewable energy technologies into their operations. USDA Rural Development also provides guaranteed loan financing and grant funding to agricultural producers and rural small businesses to purchase or install renewable energy systems or make energy efficiency improvements through its Rural Energy for America Program (REAP).
Download press release as PDF >>
---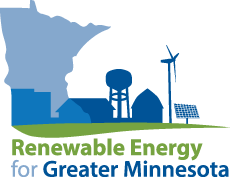 See more