Governmental Solar Garden Subscriber Collaborative
You are here: Community Solar Gardens > Metro Subscriber Collaborative
---
The Governmental Solar Garden Subscriber Collaborative was a joint effort by and for 31 local governments in the greater Twin Cities metropolitan region to procure solar garden subscriptions from a single Request for Proposals (

RFP

) process to offset the energy usage at public facilities.
By working together, the participants sought to gain an economy of scale in the solicitation process that could help to attract developers, reduce the administrative burden to vet those developers, and yield better pricing and subscription terms.

Community Solar Gardens (also known as Community Shared Solar systems) create an opportunity for individuals and organizations to receive the benefits of solar without installing it on-site. For local government entities, these benefits include supporting clean energy and its positive local economic impacts, saving on energy bills for public facilities, and hedging against the future price volatility of electricity.
This report is intended to detail the model and lessons learned from the Governmental Solar Garden Subscriber Collaborative so that local governments, utilities, solar garden developers, non-profit organizations, and others seeking to implement similar programs can build on this project.

By providing a detailed account of what we tried, what we learned, and our suggestions for others pursuing similar work, we hope to help scale up local government participation in solar gardens.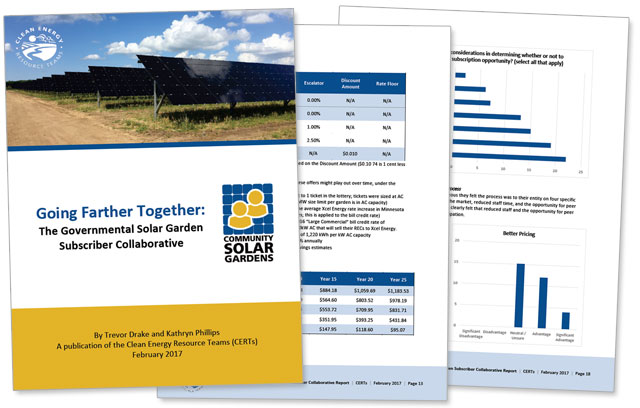 Trevor Drake
Metro CERT Co-Director, Great Plains Institute
612-767-7291
tdrake@gpisd.net