LED Street Lighting
Thinking about
LED

street lighting? Here are some resources to get started!



During our February CERT Conference back in 2013 several regions expressed interest in LED Street Lighting. Since that time interest has only grown and there are many local governments starting to move forward with projects – including a few CERT Seed Grant Recipients.
To help ourselves better respond to questions about LED street lighting we began to sift through recent reports to tease out answers to the most common questions we were hearing. Rather than keep that to ourselves, we decided we'd be better off sharing that information with all of you. Here goes!
The first question we were often asked was, "Is there funding for LED Street Lighting Retrofits?" The short answer is, maybe. The longer answer is that some utilities in Minnesota have LED Street Lighting rebates. Your best bet would be to talk directly with your local utility about what rebates they have to support this sort of retrofit. Some local units of government could also bundle a street lighting upgrade into a larger energy efficiency infrastructure improvement project through the State's Guaranteed Energy Savings Program (or "GESP" for short).
Based on the studies that have been published, and anecdotal reports, one thing to keep in mind though is the savings related information. A recent MN DOT study, described further below, pointed out that the majority of the savings from installed LEDs are really on the maintenance end (or rather, avoided maintenance) rather than energy savings. This is also what we've heard from cities that have started to look at their options. Now, this should still be a great selling point – saving labor is probably as important as anything else – but it does mean that looking at energy savings figures alone will not likely sell the project.
Ready to get started looking at the details? Here are some key resources…
Minnesota Department of Transportation (MN

DOT

) recently released a report on

LED

Street Lighting. Here is the overview and here is the full document. The report referenced the following: "Nine different

LED

manufacturers represented by six vendors were applied east of Hiawatha Avenue: American Electrical, Beta, Elumen, Hadco, Hanover, Holophane, Light Emitting Design, Lumec, and Sylvania. Each light manufacturer was installed in a one-to-two block area to facilitate comparison of light levels, color, and public appeal." Page 16 describes the results by manufacturer. They actually called out Hadco as a brand that had shorter paybacks but still higher quality lighting. As a side note for Minnesota GreenStep Cities, the best practice adviser, Susan Zarling, is the technical liaison for the

DOT

report, so it would be worth touching base with her about specific manufacturers.
The Minnesota Department of Commerce also funded an

LED

lighting study. The research report came out in December. It's full of good information. Page 1 lists the manufacturers they considered (which did not include Hadco, as referenced above). Pages 6-12 detail a 10-step "how to" guide for lighting upgrades and they also provide sample inventory sheets, etc. It's a great resource on how to move forward. You can also download a two-page factsheet with highlights from the report. The City of Chanhassen was involved in the report, too (learn more about their involvement).
Xcel Energy has a

LED

street lighting pilot project in West St. Paul, MN. Xcel Energy is partnering with the city of West Saint Paul and GE Lighting Solutions on a two-year

LED

street lighting pilot project. The goal for the pilot project is to gather information to develop a

LED

streetlight rate and fixture option. The data they collect will allow them to better understand maintenance requirements and costs, reliability, energy consumption and light output.
See speaker presentations from the League of Minnesota Cities Annual Conference in June, 2014. There were three speakers who talked about the nitty gritty details of installing

LED

street lighting projects in their cities in Minnesota. Check out the presentations.
Questions? Answers? We're currently working to pull together other resources on this topic, so if you have other questions—and ANSWERS—you'd like to share, we're all ears! Leave your thoughts in the comments below, or send your thoughts our way. We'll be posting resources to a new page on our website in the near future, so stay tuned.
---
Better light and more savings with
LED

street lights: Conference session recap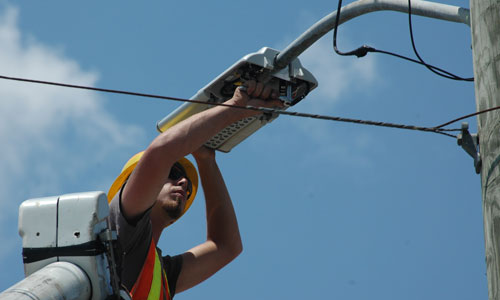 An LED street lighting forum was hosted at the League of Minnesota Cities Annual Conference on June 19th, where a packed room of 40 people learned first-hand from a tremendously knowledgeable line-up of speakers from across Minnesota.
Is your city in the dark about LED street lighting retrofits? Learn how the technology works, as well as the benefits to your city's operational budget. See presentations below from city representatives about their experiences and lessons learned, and get tips for picking the right kind of light and selecting a lighting contractor for your project.


Presentation –
LED

street lighting: What it is and how it has worked for us


Blake Redfield, City of St. Cloud


Download presentation | Download City LED Street Lighting Plan


Presentation – Lessons learned from project implementation and tips for working with your local utility

Brian Jeremiason, Lyon-Lincoln Electric Cooperative
Presentation – A 10-Step Process to your own
LED

Lighting Project


John Paulson, City of Hutchinson
More Resources